Tennis
Team World sweeps first 3 matches vs. Team Europe at Laver Cup
[ad_1]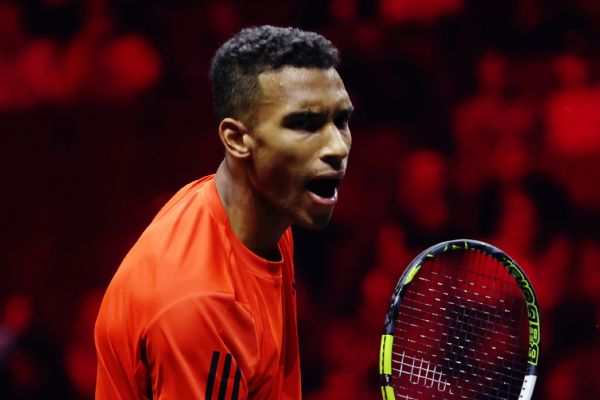 VANCOUVER, British Columbia — Felix Auger-Aliassime beat Gael Monfils 6-4, 6-3 as Team World won the first three singles matches of the Laver Cup international tournament on Friday.
Ben Shelton and Francisco Cerundolo also claimed wins for Team World, as did the doubles pairing of Tommy Paul and Frances Tiafoe.
Monfils came to Auger-Aliassime's side of the court twice to verbally spar with him during their match, and the Canadian ignored his taunts both times.
"At the end of the day, the goal is to get through and win," Auger-Aliassime said about the confrontation. "I take all matches seriously and want to compete and win and have fun doing it."
Monfils repeatedly played to the crowd, cupping his ear to hear cheers or sitting on advertising hoardings along the edge of the black court at Rogers Arena and shrugging to the crowd when a call didn't go his way. The French player was heard on mic telling Team Europe captain Bjorn Borg that he "was here to have fun" and appeared frustrated by the referee's calls throughout the match.
"It's competition. Things got a little bit heated in the moment with tension," Auger-Aliassime said when asked about the response.
The Canadian said he was taking the competition seriously and downplayed mind games from his opponent, adding that he was focused on abiding by the rules of the tournament.
"I think the Laver Cup has the potential to be taken very seriously, not just now but also in the future," Auger-Aliassime said. "We're just taking this seriously and things got heated for a couple of games.
"Gael is somebody I appreciate, so there's no tension outside of what just happened."
It was a rematch between Auger-Aliassime and Monfils after they played against one another at the Laver Cup three years ago.
Monfils made Auger-Aliassime work for it throughout the match. He repeatedly hit cross court volleys in an attempt to put Auger-Aliassime on the back foot. But the Montreal native thrived on serving, with an 85% winning percentage on first serve followed by 64% winning for second serves. He added to that with a dominant net game, with 15 net points to Monfils' five.
Shelton defeated Arthur Fils 7-6 (4), 6-1 as Team World took an early lead over Team Europe. Cerundolo added to that with a 6-3, 7-5 win over Alejandro Davidovich-Fokina.
Shelton won 85 percent of first-serve points and had the only two breaks of the match, both coming in the second set.
"I thought it was a great match. Pretty high level from the start," he said.
Cerundolo thrived on his serve in his match against Davidovich-Fokina with four aces, but repeatedly struggled to finish off his European counterpart.
Shelton's win marked the first time Team World has won the opening match at the Laver Cup.
[ad_2]